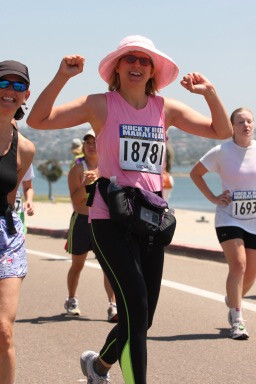 Here's me with my pink hat walking the San Diego Marathon. I'm proud to say I learned my lesson from last year, which was if I improve my attitude and smile while I'm walking, I'll have a much better time. And I DID. I had a blast – right on up to between Mile 22 and 23. Then, I hit the wall.
And I hit it hard.
I'm not sure why I'm the only one in our little group to hit the wall but there it is. For the last 4 miles, I wanted to kill someone (or kill myself). All of a sudden the pain in my legs, which was hurting for most of the marathon but it was more of a dull ache, flared up big time. And all of a sudden, that pain became nearly unbearable. I didn't think I could deal with it for one minute longer.
But I did deal with it. For an hour. One very long, agonizing hour.
More then that, I refused to let myself slow down. (Although I must say, that was a fairly easy decision as I knew if I slowed down I would simply be prolonging the agony.) I kept with my 15-minute mile and finished the race at 6 hours, 26 minutes — 38 minutes faster then last year.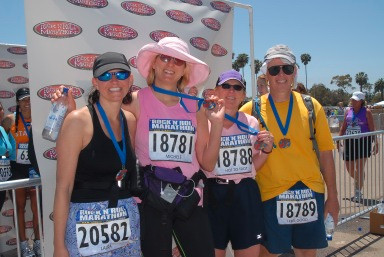 So that was a win. Other wins to report:
• They changed the flavor of Accelerade (which is like Gatorade). Last year they served the original lemon-lime, which was disgusting. I could barely choke it down. This year they served fruit punch. Much better. (I've decided to attribute the change to me, as I complained last year in this very same blog about it – I have no doubt the powers-that-be at Accelerade are of course avid readers of my blog. : ) )
• The wonderful people with the oranges were still there, and this time gave me a handful of oranges to eat. Bless them!
• I didn't get a single blister! (Big win as last year it took about 3 weeks before I could walk again as my blisters were so deep.) I bought some socks at the Expo that they GUARANTEED would keep me from getting blisters. (Although I'm unclear other then giving me my money back, what exactly they would do if I did get blisters. If I had blisters like I had last year, getting my money back would be the least of my worries. I probably would have put a hex on them if it hadn't worked.)
I also saw some good examples of marketing during the race. (Maybe because I was in a much better mood than last year.) Here are two you can learn from:
1. Outback had a blimp cruising the summer sky, and it was positioned so we could see it as we headed toward the finish line. Other than getting exposure to 20,000 people, what made this a great idea is many of these marathoners (such as myself) view any day where you complete 26 miles as a day where you can eat anything you want plus add a couple of helpings for luck and it just won't matter. So, as we start pondering what we're going to eat and drink that night, what pops up is Outback. Great example of how to reach people when they're in the right mood to buy what you're selling.
2. Eating Right (a brand of packaged foods and drinks) had these big signs available for free at the Expo. The signs looked like big colorful bubbles (which matched their logo) and also included the name Eating Right. Fans could write messages on the bubbles and hold them up during the race. I must have seen hundreds if not thousands of these big colorful bubbles with a variety of sayings on them throughout the race. Again, a great way to get a lot of brand recognition in a short amount of time. And, as most marathoners do try and eat healthy most days (other then the actual marathon days) this again is a great way to get your brand in front of targeted market.