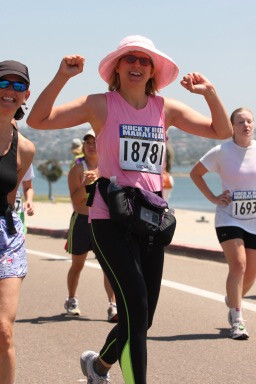 Here's me with my pink hat walking the San Diego Marathon. I'm proud to say I learned my lesson from last year, which was if I improve my attitude and smile while I'm walking, I'll have a much better time. And I DID. I had a blast – right on up to between Mile 22 and 23. Then, I hit the wall.
And I hit it hard.
I'm not sure why I'm the only one in our little group to hit the wall but there it is. For the last 4 miles, I wanted to kill someone (or kill myself). All of a sudden the pain in my legs, which was hurting for most of the marathon but it was more of a dull ache, flared up big time. And all of a sudden, that pain became nearly unbearable. I didn't think I could deal with it for one minute longer.
But I did deal with it. For an hour. One very long, agonizing hour.
More then that, I refused to let myself slow down. (Although I must say, that was a fairly easy decision as I knew if I slowed down I would simply be prolonging the agony.) I kept with my 15-minute mile and finished the race at 6 hours, 26 minutes — 38 minutes faster then last year.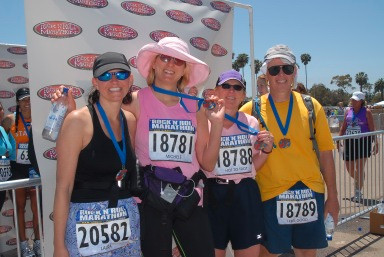 So that was a win. Other wins to report:
• They changed the flavor of Accelerade (which is like Gatorade). Last year they served the original lemon-lime, which was disgusting. I could barely choke it down. This year they served fruit punch. Much better. (I've decided to attribute the change to me, as I complained last year in this very same blog about it – I have no doubt the powers-that-be at Accelerade are of course avid readers of my blog. : ) )
• The wonderful people with the oranges were still there, [Read more…] about Marketing Lessons from the Marathon