Walking the San Diego marathon was the hardest thing I've ever done.
I'm no stranger to long distance walking. I live in the mountains of Arizona and have done a number of strenuous hikes in my life, up and down (and up and down) mountains. I've hiked in and out of the Grand Canyon. My longest hike, until this past week, was 17 miles.
And I wasn't at all prepared for San Diego.
In case you didn't know, a marathon is 26.2 miles. I'm convinced that the human body wasn't meant to walk/run much past 20 miles, especially in a racing situation. You have no time to stop, regroup, eat, rest etc. You just have to keep going and going,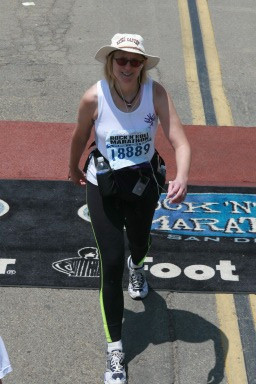 Let me give you an example of what it's like.
You're somewhere between mile 15 and 16. Your legs and feet are throbbing with every step. And you're starting to get very hungry. So hungry you pass a church with a sign on it that says "water, hot dogs, bathrooms." And even though you don't much like hot dogs, at that moment they sound like the most delicious thing in the world. However, you don't get one because:
1. You're not sure you can digest a hot dog without stopping to rest
2. You don't actually see any hot dogs (and this one is actually more important than number 1, because if you HAD seen one, you probably would have chanced eating it and hoping your digestive system could handle it.)
So instead you eat this horrible thing called "Gu" which is basically gloppy sugar. Imagine this disgustingly sweet gushy stuff with the consistency of, well, glop, in your mouth. But not only do you eat it, you squeeze every last bit out of the wrapper because (and this is the worst part) –
You still have over 10 miles left to go.
But it gets much worse. Once you hit mile 20, there's nothing left. You're walking on sheer willpower by that time.
Six miles of sheer willpower. Battling through the pain that just gets worse with every step. You're tired (but not hungry because by that time you've had enough sugar in the form of "Gu," Acceleraid, which is like Gatoraid but tastes far worse, and a couple of Jolly Ranchers from one nice soul by the side of the road). And the only thing keeping you going is the thought you simply CANNOT be one of the ones who don't finish.
But, there are rewards. Finishing is a reward. Knowing your mind can triumph over even the pain in your body is quite an accomplishment.
But there was another, unexpected reward. The renewal of my faith in the human race.
Many, many people came out to cheer us on. They stood on the side of the road and clapped and cheered. They held up signs "10 miles left to free beer" (you got free beer at the finishing line), "You can do it," "You're on your way." They yelled out encouragement, and even lied on a few occasions. ("Mile 22 is right around the corner" when it's really a bit farther then that, but at that point you REALLY NEED to hear Mile 22 is right around the corner.)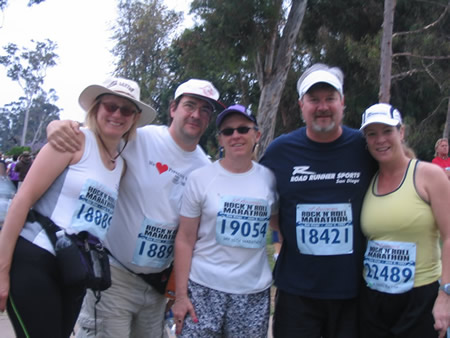 They gave us food — Jolly Ranchers, cookies, pretzels. One angel of a family cut up oranges and stood out there and handed them out to us. THEN they had to clean up all the orange rinds that were on the street. If I hadn't been so tired (and sweaty) I probably would have kissed them.
These people were probably out there 4, 5, 6 hours. They took the time out of their busy lives to encourage and motivate us. And I can't tell you what a difference that made.
I tried to thank them, but I think I looked more grumpy then anything. (And I'm not sure if I was even coherent at certain points.) So, this is my tribute and thank you to them (and if you're reading this and you were one of the ones out there cheering on the San Diego marathoners, please know the grumpy-looking woman in the Bryce Canyon hat was REALLY grateful for your presence even if she didn't look like she was.)
As humans, if we can still take time out of our lives to cheer on other people as they strive to reach their goals, and those goals have nothing to do with us, then there's hope for us yet.